Taking the Leap into Corporate Outreach
We're excited to announce that HanaByte has formally launched our corporate outreach program, lovingly titled "HanaByte Hearts". As a competitive new agency in the cybersecurity industry, finding the foundation in a company is crucial. At HanaByte, we believe that the backbone of our organization is dependent on the core values that we put at the forefront of our movement. Building a consciousness for the community that we have the opportunity to serve is a key component of our cultural mission. We were happy to start this new journey with a collaboration with Rise Against Hunger (RAH) in the first quarter of 2023 at their warehouse location for a meal packing event.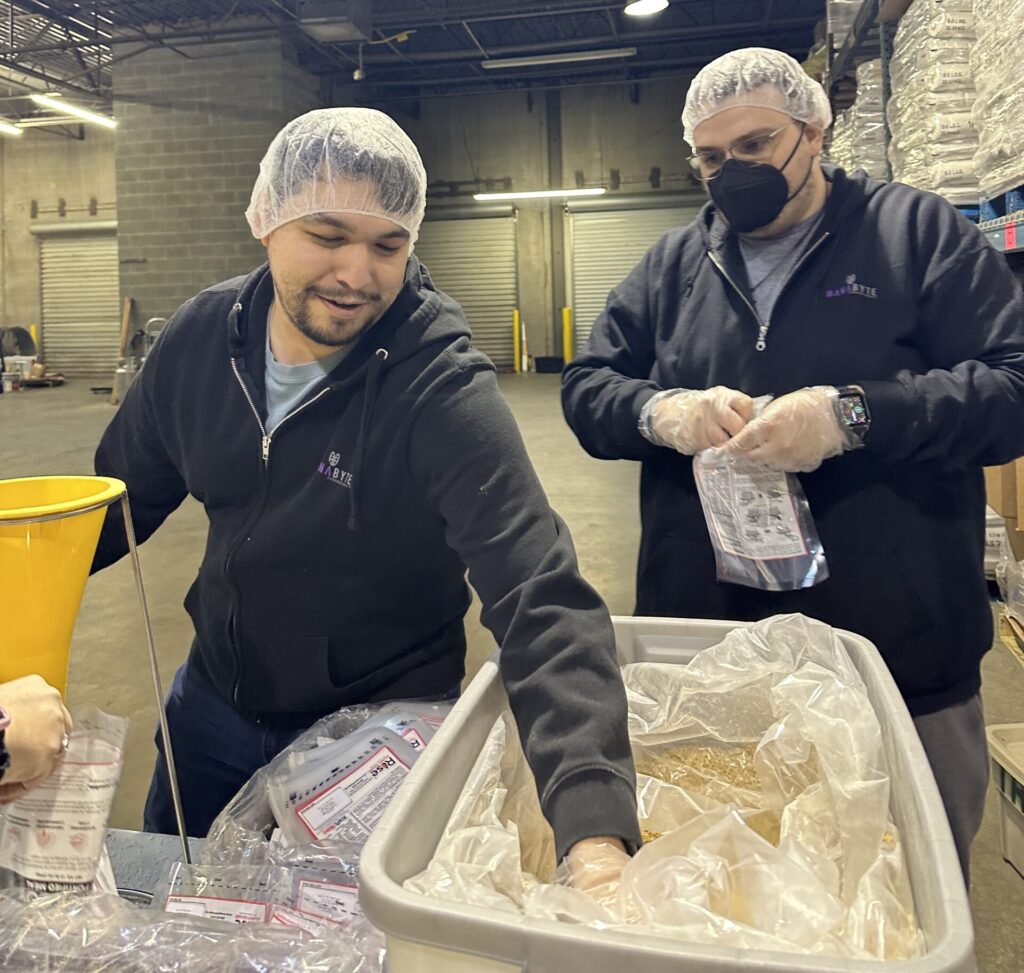 Getting to Know Rise Against Hunger
Rise Against Hunger is a popular volunteer opportunity that you may have heard about in passing previously. But what is it truly about? From their press release "Rise Against Hunger is growing a global movement to end hunger by empowering communities, nourishing lives and responding to emergencies. Targeting remote, last-mile communities within hunger pockets designated "serious" or higher by the Global Hunger Index, we work with local leaders to harness the strengths of their communities and tackle their own food and nutrition security challenges with agency, dignity and resilience." Their Meal Packing events can be held with as few as 5 people and is available for people of all ages. The RAH team is able to accommodate participants at their home facilities or at a RAH warehouse. The meal packs are a nutritious combination of 20 essential vitamins and minerals developed to scientifically sustain and provide relief from the feeling of hunger. The meal bags prepared include veggies, soy, rice and seasonings as well as a condiments package for additional flavoring. Their website warns that their research has found that one in three people living in developing countries are affected by deficiencies in vitamins and minerals, with their curated meal bags taking care of combatting this very phenomenon. The meal bags are vegetarian and made to accommodate all different types of food needs as best as possible while providing the key nutrients needed to survive. These vegetarian rice meals are made to be enhanced seamlessly with local spices as well, so that they can be made to feel homey and comforting in addition to just warm and good for the body.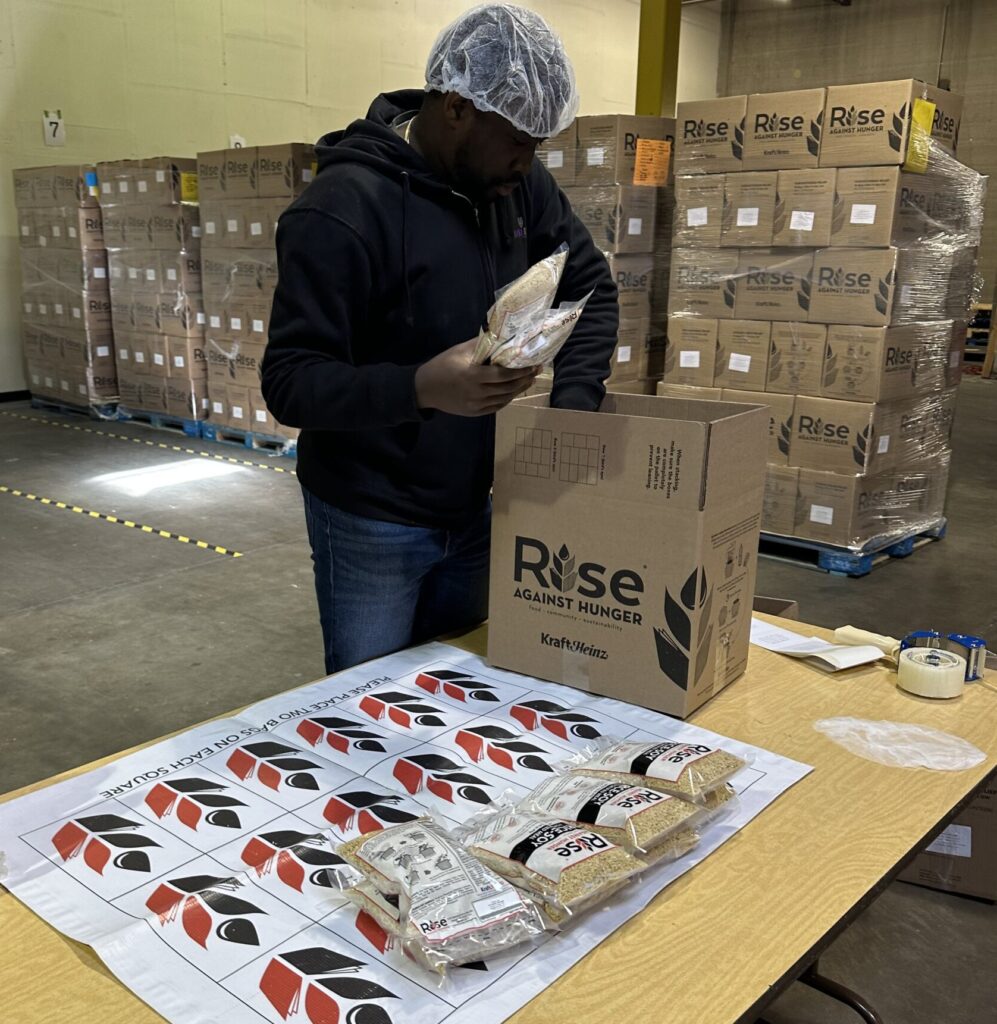 Eliminating Hunger, One Event at a Time
When the HanaByte team gathered together to figure out what they wanted to do for their very first outreach event, they all brought to the table various positive experiences from meal packing events that they had participated in previously. This made Rise Against Hunger an easy decision for what we wanted to pursue. It's this accessibility and simplicity to the process that makes RAH such a success. On the day of the event, the HanaByte team showed up at the warehouse location in Marietta, Georgia bright and early for the meal packing event. Because our company is remote-first, we didn't have a large space to operate a meal packing event. This wasn't a problem at all because RAH is accommodating, providing not only the supplies but the location as well. The cost for the event was simply the donation amount for how much the team would be packing. They account for 150 meals on average per person every 2 hours at the facility, which means that as a team of 7, they projected 7 boxes could be completed during our event. Each of these boxes packed contains 216 meal bags, with each bag having the required nutrients for 6 adult meals. That means that with just 7 boxes, a team has the ability to feed over 9,000 meals.
HanaByte team members Jenny Tang (Staff Consultant), Kat Evans(CEO), Simon Abisoye (Associate Consultant), Eric Evans (CTO), Logan Dabbs (Executive Assistant), and Michael Greenlaw (Senior Consultant, with his fiancé to assist), joined together to pack a grand total of 7 boxes, which comprised 1,512 meal bags total. The team broke into 3 different stations to work as quickly and efficiently as possible. Station 1 worked to fill bags with the appropriate amount of food, spices, and condiment packages as a team, using pre-measured scoops to do so. Station 2 worked to weigh each bag to make sure that each bag was equal in weight before sealing them off. Station 3 wrapped up the line by counting out the appropriate number of bags per box and packing up boxes to be shipped. The last person to touch these bags were team members of HanaByte before heading to their final destination, so extreme care was taken by each team member. After the event was done, there was a speedy clean up and the event was over. It was so simple, it seemed like we could have done so much more, leaving our team to promise a return challenge to the facility with double the boxes!
Two months later, HanaByte received the notification that the meals packed during our event were part of a container totaling 285,120 meals that left the Atlanta warehouse heading to their partner Convoy of Hope Philippines. This experience allowed employees to work together, break a sweat for a cause that they're passionate about and give back to the community. The perspective that was afforded was also profound, as our team had the opportunity to discuss what they were able to accomplish in just a few short hours. Opening up dialogue about the needs of the others and our own experiences not only helps to build more meaningful bonds within the HanaByte crew, but also allows the individuals to fully appreciate what it means to be a working cog in a society that operates one person at a time. Recognizing the contribution you can make in just a few short hours inspires the drive to find more opportunities to give back and that's exactly why we're so excited to be starting our journey into corporate outreach. As a cybersecurity company, we're about helping others to be more secure in this virtual world, but it's always a pleasure when that heart initiative translates into ways that we can make others feel more comfortable in the physical world too.

Let's see if HanaByte can double their numbers in Fall of 2023 when they take on the challenge once more, on our quest, to do our part, to end hunger.