When thinking of cybersecurity, often you may think of a room enclosed inside of a building and the black background of yore with bright green lettering transfixed upon it in cascading lines of illegible coding. This imagery will be seen time and time again, in different cold color schemes in accordance with the knowledge that coding is everywhere and controls everything within this industry, like the DNA that makes each of us up.
Where, then, does this room of floating code exist though? For there to be a cloud that exists in nothing, first must there not have been a person to create it? And in a time of technological advancement in AI that seems to surpass human control, the elements of nature are still at play outside of this lonely room where you'll often find someone tapping away at their keyboard in thoughtful concentration. Beyond the premises where the old data once existed, still exists people coding and working on security in the cloud from the comfort of their homes, and there the conversation started: must we not protect where we physically exist if we are to continue to protect what conceptually exists?
In this observance, the next venture put into play for HanaByte Hearts (HBH) was to give back to our local community by putting hands in the dirt and experiencing nature.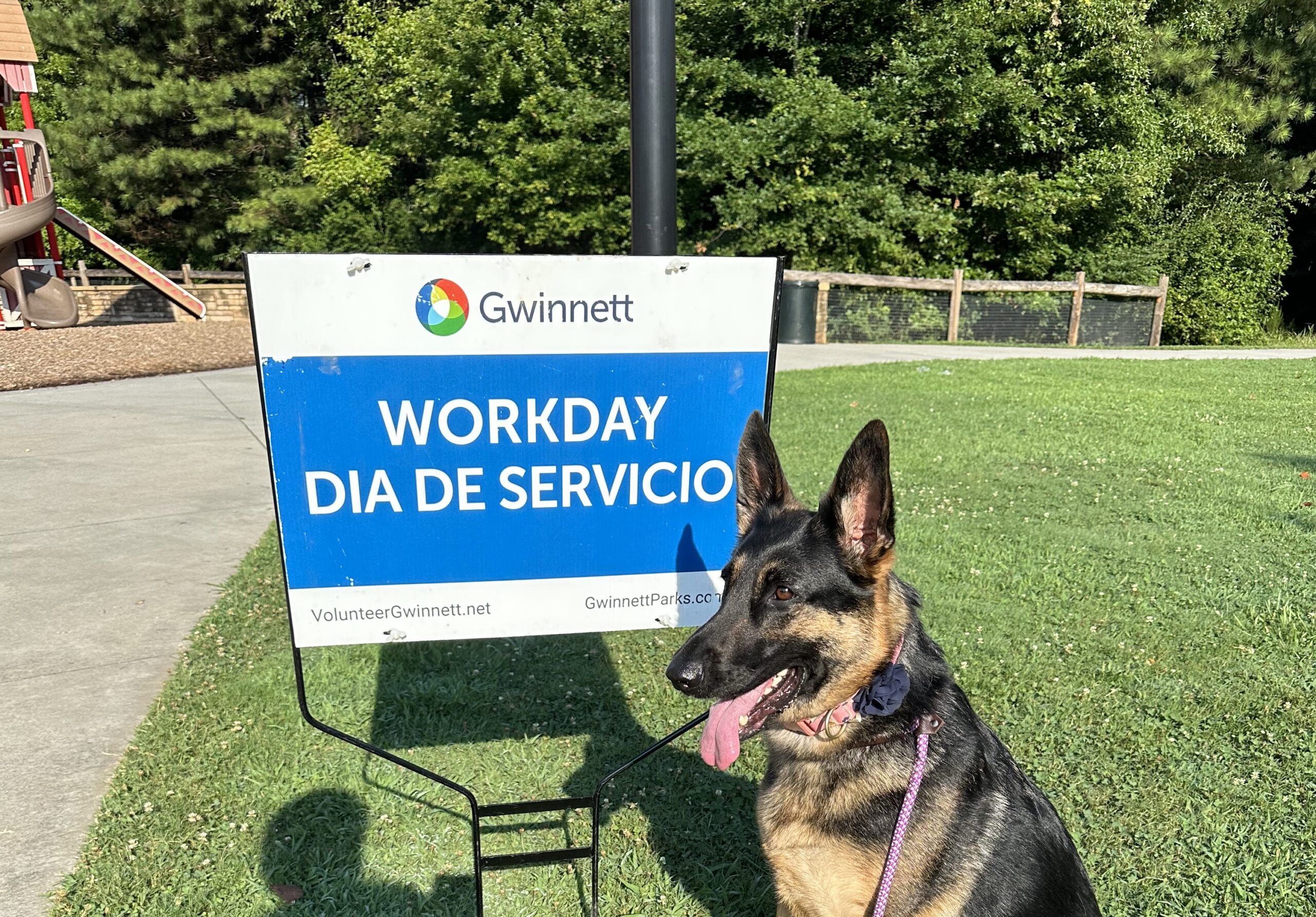 An Elite Government Department
When selecting an agency for the task, many options offered experience in planting trees, picking up litter, and doing weeding and gardening for various establishments. The one opportunity that stood in great esteem over the others would turn out to be a name heard many times; Parks & Recreation. Beyond the television sitcom, many did not know much about the government department that works to give back to the community through park maintenance, nature education, and various recreational spaces and experiences. 
Based in Atlanta, Georgia, the first one that HanaByte looked into was one that was close by on a map, which landed Gwinnett Country at the top of the list. Unbeknownst to those living in Gwinnett County, their local parks and recreation department was recently awarded a spot as an elite park and recreation agency.  In fact, in  September of 2022, Gwinnett County earned accreditation through the Commission for Accreditation of Park and Recreation Agencies (CAPRA) and the National Recreation and Park Association. CAPRA assesses the comprehensive excellence of an organization in its operations, management, and community service. Accreditation signifies that the agency has achieved stringent benchmarks in areas such as land and facility management, resource allocation, program implementation, safety protocols, and service delivery. As a component of the accreditation procedure, Gwinnett Parks and Recreation showcased adherence to over 150 established standards, thoroughly documenting all policies and procedures, making them an ideal candidate for corporate outreach opportunities.
The literature for the Parks and Recreation department highlights not only their personal accomplishment but a genuine passion for the community, including research into their demographics to understand how they might better their efforts. They cite that Gwinnett County has transformed over the years into a vibrant community, bringing together people, cultures, and businesses. It's now a colorful and dynamic place that attracts residents and companies from around the world. Gwinnett is incredibly diverse, with over 130 languages spoken and over 650 foreign-owned companies, making it the most diverse county in the southeast. When we contacted them, they were quick to respond with schedule availability and different program options. A dedicated correspondence was established and the team was able to quickly put together a plan to clean a local park.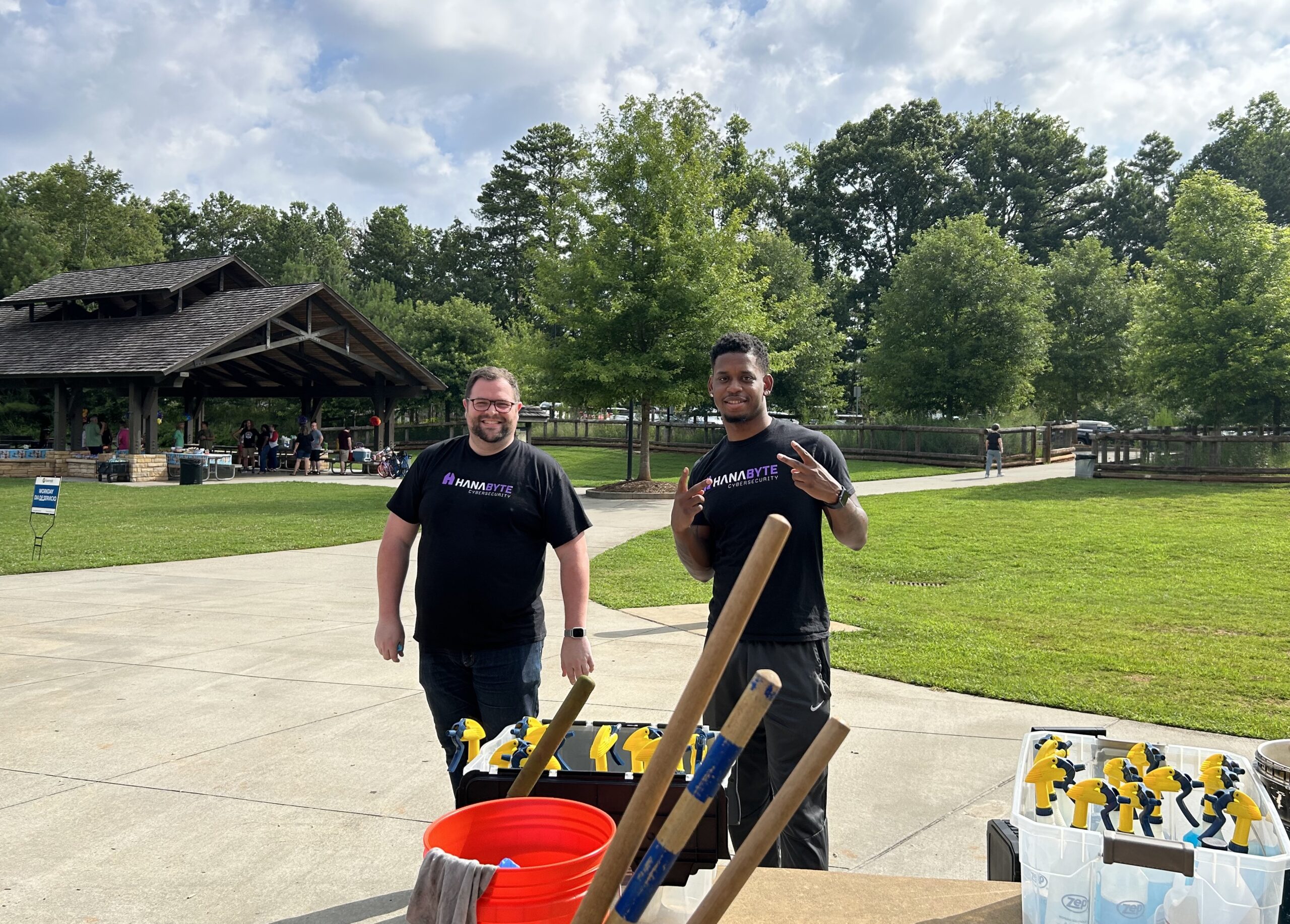 A Secret Oasis in Atlanta
Most days, the HanaByte team gets together for work events during the work week from behind a screen, as there's a focus on work-life balance. This summer, the team was given the opportunity to get together on the weekend, away from the cold glare of the laptop, under the bright sunshine in a sprawling park to work on the next HanaByte Hearts mission! Summer in Georgia can be especially unforgiving, so when the date was selected, the HBH planning and coordination team was initially very concerned about whether this would affect attendance. However, team members signed up one by one without hesitation. Since starting the HBH program, the team at HanaByte has been extremely active with planning and showing up for events. 
On the day of the event, the coordination team for Gwinnett County provided all of the safe cleaning supplies and the HanaByte team joined together at McDaniel Farm Park in Duluth. Not only was the park surrounded by big green trees like a hidden oasis, but there was open field space to kick soccer balls, a beautiful covered concrete pad with picnic tables, and vibrantly colored play equipment in woodchips. Senior consultant, Patrick Davis even went so far as to comment "What is there to clean at such a nice place?" Present were the Chief Executive Officer, Kat Evans, with her husband and Chief Technology Officer, Eric Evans, along with their daughter and HanaByte's head of security, Hana (The German Shepherd Dog). Staff Consultants, Otis Thrasher, Simon Abisoye, Jenny Tang, and Jeff Pemberton all showed up ready to work. This time, Creative Designer and Culture Ambassador, Logan Dabbs, encouraged the team to invite friends and family to join in the event.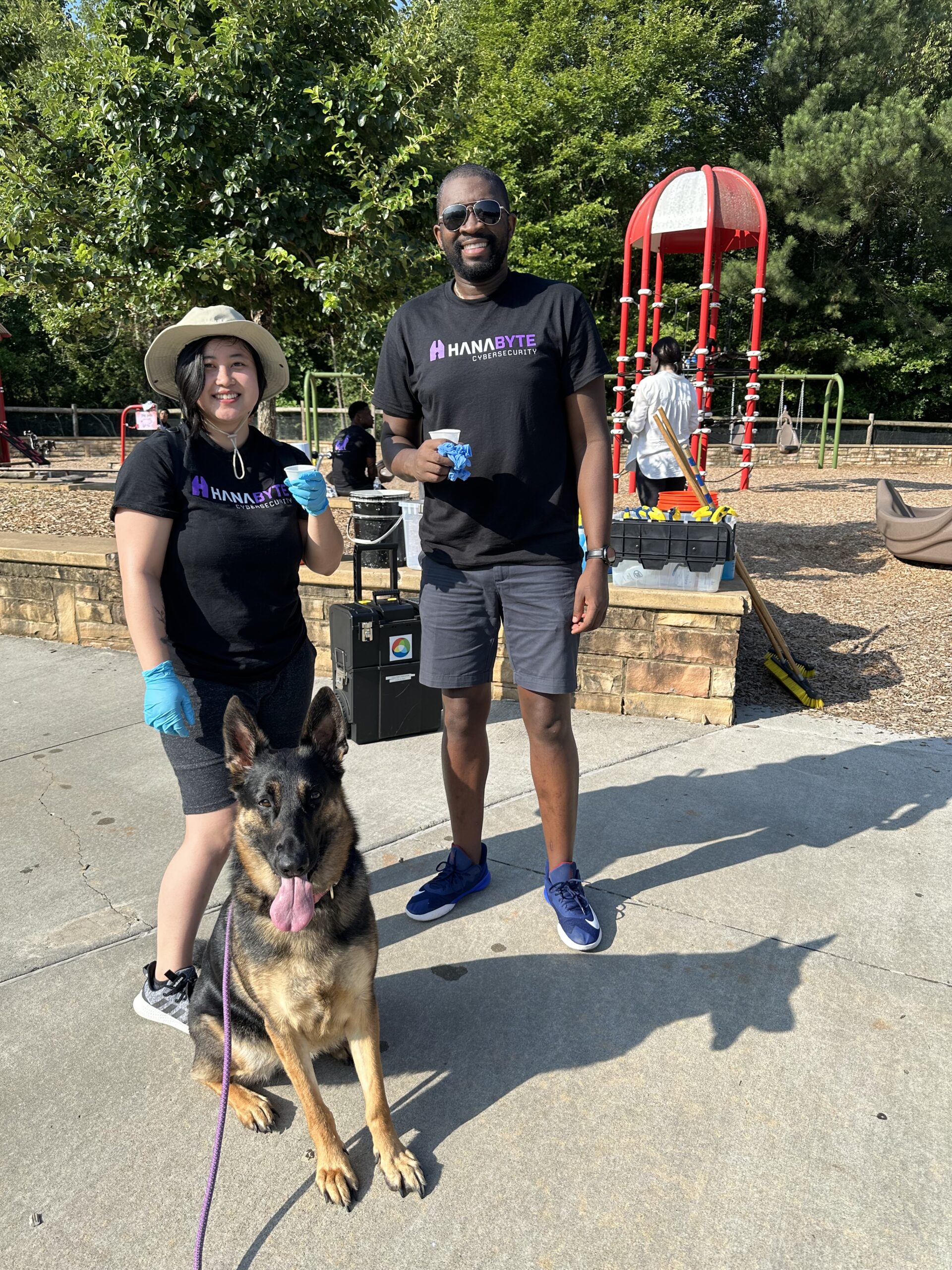 With safe cleaning liquids to help sanitize and protect the environment and recycled cloth rags, the team got to work spraying down equipment and sweeping away woodchips from play equipment so that children could play safely. Between dirt and candy and the elements, the rags were quickly dirtied one by one. Even though the event started early in the morning, the relentless sun was quick to break sweat on the hard-working team. Despite the crawling temperatures, both the Parks & Recreation Team and the Hanabyte volunteers were picking up trash, scraping gum, and helping to polish up the equipment. The event ended at lunch time just in time for a huge birthday celebration to start for a family at the picnic tables. Children were running around, picking dandelions and playing tag which turned the peaceful oasis into a jubilant gathering place in a matter of minutes, reminding everyone once more exactly why it was important to show up and put in the work.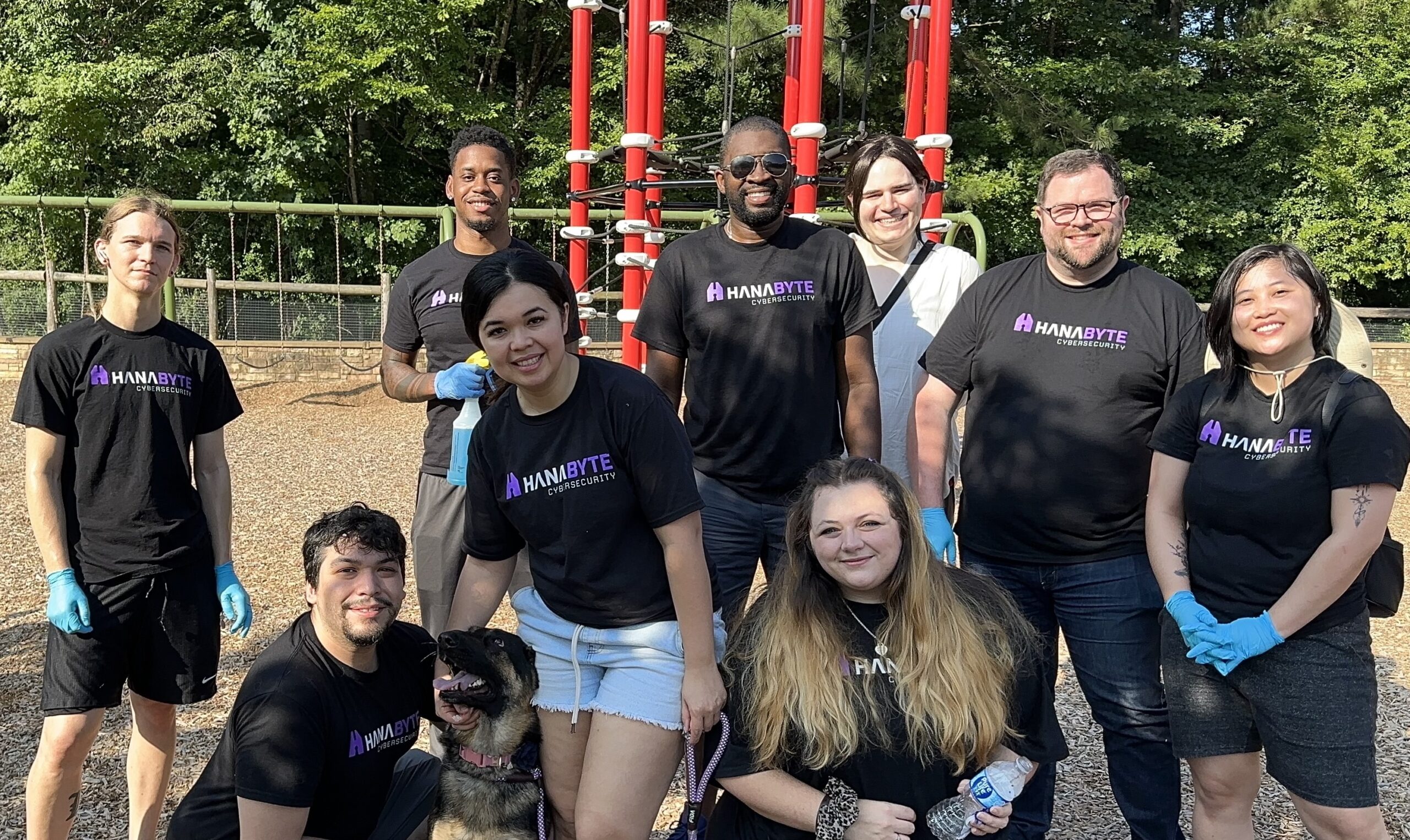 Full of Memories (and Korean Food)
After the event, some of the pack gathered for a shared meal at a suggested local favorite spot, Tofu Village & BBQ, as is the HanaByte Hearts tradition to dine after volunteering. The post-volunteer meeting is really a way for the team to de-compress, share their final thoughts, and for HanaByte to show gratitude to employees who choose to spend their precious time giving back to causes that best align with corporate core initiatives. While eating delicious Korean food as a team, each person was able to talk about what part of the event was most meaningful. Simon Abisoye said "I really like that we can gather together like this and it makes me thankful to have this opportunity to do something that's impactful and learn about my coworkers at the same time. That's really nice." 
The point of corporate outreach is multi-faceted, an ever-changing priority list that illuminates new points of focus with each passing month. One thing that remains at the core of our initiative is that it's a program founded on collaboration. HanaByte Hearts is made to collaborate with other companies, but in addition, it has proved to build a strong collaborative spirit within the company as well. The opportunity provided by these events to break a sweat as they work hard together, break bread, and break barriers put in place by a virtual office cannot be overlooked. The lovely reminder brought in by the vibrant children's laughter at the close of the work time pulled the focus to the point of the event again. The cleaning of parks and taking care of our environment are all tied to our futures and the future of the planet that those youthful playground voices will grow up in. 
This reminder of a need for security that transcends a cyber world, refocuses the drive of this program, as HanaByte looks into the variety of diverse methods through which security is present in our surroundings. As the consultancy expands with new hires, new experiences, and new opportunities, the one heart that remains unchanging is a focus on how to make a difference one day at a time.